Eqipment and tool stickers

"IF YOU WANT YOUR EQUIPMENT STICKERS AND LABELS TO LAST, CALL US FIRST!"
Equipment Stickers, Labels, and Decals, Laminated Weatherproof Labels & Decals
Imprints provides several differing types of weather and chemical resistant materials. Each have aggressive and super-aggressive adhesives.  For harsh environments and severe weather and elements, we utilize UV laminate. Die cut to any size or shape, with no tooling or set up charges.
We print custom to order, so all stickers/labels are priced to order.  There are no minimum quantities required though we do have a minimum charge. we print custom to order so all pricing is custom to order as well. Pricing based upon 2" by 1" or smaller stickers printed 1 color on laminated aggressive adhesive vinyl: additional colors incur an additional fee.
Since these labels are printed custom to order, they are also priced to order. There are no minimum quantities, but there is a minimum charge. Below is pricing based on a 2″ x 1″ or smaller label printed 1 color on laminated aggressive adhesive vinyl; additional colors extra. Call or email for any other sizes/quantities.
In most cases stickers are supplied on sheets, but for larger quantities and sizes they may be supplied on rolls. Normal turnaround time is 2 to 3 days once the proof is approved.
IF YOU HAVE NOT RECEIVED A RESPONSE FROM US WITHIN A COUPLE HOURS (USUALLY MUCH SOONER) PLEASE CHECK YOUR SPAM FILTERS AND BE SURE THAT YOU ARE ALLOWING EMAILS FROM US TO COME THROUGH.
For placing orders, we do not have an online form. I prefer to talk to you on the phone or by email first. This ensures that we're on the same page and that all questions are answered personally.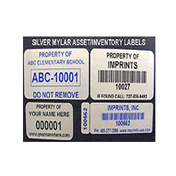 EQUIPMENT
EQUIPMENT
For our basic stickers we use a silver mylar material, available in three sizes. While durable, the silver mylar material is meant mostly for indoor use in a normal office environment.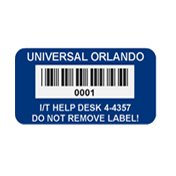 STICKERS CUSTOM
EQUIPMENT
Our custom fixed asset and inventory stickers and decals are made to order and are printed using either our aggressive adhesive vinyl, silver mylar or super aggressive pit bull adhesive vinyl.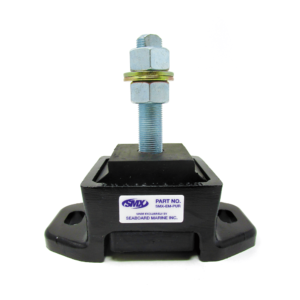 | | | | | |
| --- | --- | --- | --- | --- |
| UV Laminated Vinyl | $100 | $175 | $250 | $400 |
| UV Laminated Pit Bull Adhesive Vinyl or Reflective | $150 | $225 | $300 | $450 |
We recommended, for best adhesion, that you apply the stickers with firm pressure to a clean surface (91% isopropyl alcohol works best) Dirt, grease, fingerprints can cause stickers to come off. On most surface, the longer the labels are on, the better they will stick. Remember though, they are just labels. If someone wants to take them off they will come off.
Free samples stickers are available upon request with no obligation. If you have any questions about equipment stickers, please feel free to email or give us a call. If for some reason we cannot produce the product you are looking for, we will help you find someone who can.